"Julie and the Phantoms:" A Ghostly Good Time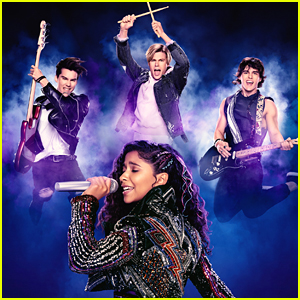 The year is 1995. An up-and-coming band called Sunset Curve, consisting of teenagers Luke Patterson (Charlie Gillespie), Alex (Owen Joyner), Reggie (Jeremy Shada), and Trevor "Bobby" Wilson (Taylor Kare, Steve Bacic), has just finished up the soundcheck for their gig at Hollywood's Orpheum theater, the biggest gig in their careers so far. To celebrate the big night, all of the members except for Bobby, who declines the offer because he's a vegetarian, go out to enjoy a pre-show snack: hot dogs from a (rather sketchy) street vendor. Unfortunately, it turns out those dogs weren't so hot, and all three members end up dying right before the big show due to what one can only assume is severe food poisoning. Death by hot dog… must be awful for PR, right?
Flash forward to one fateful night in 2020: high schooler Julie Molina (Madison Reyes) is in her late mother's music studio located in her garage when the ghosts of the previously mentioned band members – Luke, Alex, and Reggie – appear thereafter what was basically 25 years of nothingness. Needless to say, all four of them are kind of spooked out of their minds. Despite a full year passing, Julie has had a tough time finding the strength to perform after her mother's death and, in turn, is struggling to hold a spot in her school's music program. Cue a slowly but surely blossoming bond between the ghosts and Julie, helping Julie find her voice again and her essentially joining the band which changes its name from Sunset Curve to – you guessed it – Julie and the Phantoms!
The show, inspired by a Brazilian series of the same name, introduces several interesting characters along the way, including Caleb Covington (Cheyenne Jackson), the mysterious yet presumably evil owner of the Orpheum's Hollywood Ghost Club; Willie (Booboo Stewart), the charming skater-ghost that Alex has a chance encounter with; and Flynn (Jadah Marie), Julie's stylish, loveable best friend. Additionally, "Julie and the Phantoms" incorporates romantic plotlines that, while sometimes predictable, will undoubtedly have viewers rooting for the potential to-be couples on screen.
Brought to Netflix by High School Musical director Kenny Ortega, "Julie and the Phantoms," although a little cheesy at times, tells a heartwarming story about friendship along with the process of overcoming grief and growing stronger from that experience. If you're looking for a shorter and more lighthearted, pick-me-up type of show, then "Julie and the Phantoms" is a perfect choice for a weekend binge-watch.