NFL Week 17 Predictions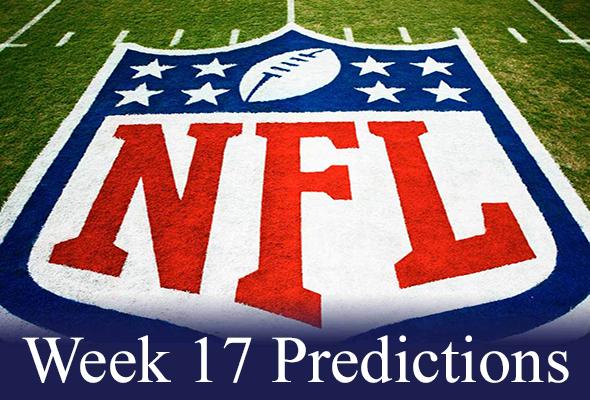 Hang on for a minute...we're trying to find some more stories you might like.
Last Week: Ethan Katz: 9-2  Brevin Fleischer: 7-4
Overall: Ethan Katz: 103-59  Brevin Fleischer: 105-57
Cleveland Browns at Baltimore Ravens
Scouting Report: There's a lot on the line for the Baltimore Ravens here. If they win, they have a chance to make the playoffs. If they lose, they're out. With injury problems at the quarterback position for the Browns and nothing to play for, there's no way Baltimore is going to lose this one.
Pick: Baltimore- 30 Cleveland-17 EK
Scouting Report: Simply put, this is a must-win game for the Baltimore Ravens. It's at home against the third-string quarterback, rookie Connor Shaw, of the Browns. Inconsistency has been the story of the season for Baltimore, but they have a chance to right the ship at home on Sunday.
Pick: Baltimore-27 Cleveland-13 BF
Buffalo Bills at New England Patriots
Scouting Report: Man oh man, the Bills really did blow it last week. They were eliminated from playoff contention after losing to the 2-12 Raiders. That's just flat out embarrassing. Let's be honest, it would've been tough for them to beat the Patriots anyways unless they benched some of their starters, but with not much to play for for both of these teams, as of now the edge goes to the team that has dominated the NFL once again and is undefeated at home, and that's the Patriots.
Pick: New England-27 Buffalo-24 EK
Scouting Report: Sure the Patriots have already locked up a bye in the playoffs, but there's still something to play for on Sunday. So far, the Pats have gone undefeated at home. They'll look to continue this streak and finish out the season without a home loss. Even if some of their star skill position players sit, with that offensive line, I have no doubt they'll be able to run the ball. It'll be interesting to see how much Tom Brady plays in this game since he'll be up against some of the best pass rushers in football in Mario Williams and Marcell Dareus.
Pick: New England-24 Buffalo-17 BF
Dallas Cowboys at Washington Redskins
Scouting Report: One heck of an impressive regular season for the Dallas Cowboys closes off against a 4-11 Redskins team who have given fans nothing to cheer for all season long. A loss for Washington would give them one of the best picks in the draft, and a win for Dallas could give them homefield advantage come playoff time. Looking at all of the matchups and what's on the line for both teams here, this one is a no brainer.
Pick: Dallas-35 Washington-20 EK
Scouting Report: This pick got a little bit more interesting with Washington's big win last week over Philadelphia, but that being said, it's still not even close. After being very wary of picking Dallas every week this season, I was swayed after watching them dismantle the playoff-bound Colts last week.
Pick: Dallas-20 Washington-10 BF
Indianapolis Colts at Tennessee Titans
Scouting Report: There was once a time where the Titans beat the Chiefs and started the season 1-0. Since that great victory, the Titans have, well, sucked. They are 1-13 since that day, with the lone win coming in a two point decision against Jacksonville. The case could be made that they have been the worst team this season. A loss here could give them the much needed first overall pick in the upcoming draft, but even if they didn't want to lose this game, they just don't have the offensive or defensive skill to beat the Colts, as seen in week 4 when the Colts beat the Titans 41-17. Expect the same sort of game this Sunday. It won't even be close.
Pick: Indianapolis-38 Tennessee-14 EK
Scouting Report: I'll tell you what: I sure wouldn't want to face Andrew Luck after a humiliating loss. There's no doubt that he'll be ready to go this week, which is perfect for Luck's fantasy owners because he is going up against a historically bad team. You truly cannot understate how bad the Titans have been this year. They should just pack it up, get the number one pick, and call it a season. See you next year!
Pick: Indianapolis-35 Tennessee-7 BF
Jacksonville Jaguars at Houston Texans
Scouting Report: There's a lot of promise for this Jacksonville franchise. Unfortunately, it's going to take a few years for it all to develop. Three wins is better than previous seasons, and Blake Bortles played relatively well for a rookie on an offensively weak team. Meanwhile in Houston, J.J. Watt has been an unstoppable force, putting up unreal numbers, and the Houston Texans still have an extremely unlikely chance of making the playoffs with a win here. Jacksonville won't be able to stop the run game of Houston, and the Texans should win and pray that the football gods are in their favor on Sunday.
Pick: Houston-24 Jacksonville-21 EK
Scouting Report: I would not at all be surprised if J.J. Watt outscores Jacksonville by himself this week. That's not a shot at Jacksonville, but I think Houston coach Bill O'Brien will pull out all the stops to showcase J.J. Watt on offense this week. There's not too much to lose since their season is over if they lose today. Jacksonville will get a high pick this year in the draft, and I think that they're pretty darn close to being relevant again.
Pick: Houston-27 Jacksonville-13 BF
San Diego Chargers at Kansas City Chiefs
Scouting Report: The Chiefs have lost 4 of their last 5 games, the losses mainly coming from their offensive struggles. The big matchup here that could determine this one is San Diego's weak rush defense going up against one of the best running backs in the league in Jamaal Charles. Look for the Chiefs to pull out a low scoring defensive victory and potentially end San Diego's playoff hopes.
Pick: Kansas City-21 San Diego-17 EK
Scouting Report: This is the biggest game of the year for both teams with the loser eliminated from playoff contention. Philip Rivers has been very good all year, and I think he'll save his best for the biggest moment. Look for Antonio Gates to find the back of the end zone more than once, and look for Eric Weddle and the San Diego defense to bottle up Jamaal Charles in key situations.
Pick: San Diego-24 Kansas City-17 BF
New York Jets at Miami Dolphins
Scouting Report: There's not much to play for for both of these teams. The Jets had a rough season, and the Dolphins were just short of a potential playoff spot. The Dolphins had some great moments this season and look like a team with a bright future. They're going to want to win this one and have their first winning season in many years, and with homefield advantage along with playing a team "fighting" for a low draft pick, they will be sure to get the job done in this one.
Pick: Miami-27 New York-21 EK
Scouting Report: In this type of game when neither team has any hope of reaching the playoffs, it simply comes down to who's more talented, and the answer to that question is clearly the Dolphins. In what many expect to be Rex Ryan's last game as coach of the New York Jets, the ending will be fitting.
Pick: Miami-20 New York-13 BF
Chicago Bears at Minnesota Vikings
Scouting Report: This NFC North showdown gives us the two bottom feeders of the division. These teams will be hitting the golf course after this one, but that doesn't mean they won't want to win. The Vikings suffered one of their many heartbreaking losses this season last week against the Dolphins. The story for the Bears has been their brutal secondary. Teddy Bridgewater hasn't been what you would call amazing this season, but I think this is the game where he shows us what to expect for a big sophomore season. The Vikings will take this one in dominant fashion, just because.
Pick: Minnesota-30 Chicago-17 EK
Scouting report: This could be one of the most intriguing, unimportant games of the year. Teddy Bridgewater versus Jay Cutler. This could be the final chapter in the dramatic saga that has been Jay Cutler's Chicago career. It would be fitting if it ended in a loss.
Pick: Minnesota-27 Chicago-24 BF
Philadelphia Eagles at New York Giants
Scouting Report: The Eagles really blew it. All they had to do was beat the Washington Redskins and their playoff hopes would still be alive. Unfortunately for them, they lost to the Redskins, and they're out of playoff contention. That's really got to be deflating for a team who looked so good coming into the final stretch of the season. Regardless, they'll be going up against the Giants, and all anyone talks about when talking about this team is the emergence of what could be one of the best wide receivers of all time in Odell Beckham Jr. It's truly a shame that he's not a pro bowler, because what this guy has done week in and week out is absolutely phenomenal. Look for him Odell and this Giants team to torch a deflated Eagles squad to finish out the season strong.
Pick: New York-33 Philadelphia-24 EK
Scouting Report: Here's a matchup with two teams going in opposite directions. The better or these teams, the Eagles, just came of one of the most crushing and shocking losses of any team in the NFL this season. They lost to a Redskins team with very little talent and nothing to play for. Meanwhile, the uber-talented Eagles had everything to play for.  The Giants, on the other hand, are a marginally talented team with one star and nothing to play for. They haven't had anything to play for since week seven. Look for Odell Beckham Jr. to explode in the season's grand finale, and look for the Giants to end the season with a bang.
Pick: New york-35 Philadelphia-17 BF
New Orleans Saints at Tampa Bay Buccaneers
Scouting Report: New Orleans couldn't take advantage of the worst division in the NFL. Simply put however, the Saints aren't that bad that they'll lose to one of the worst teams who wants that top draft pick. Saints take this one easily.
Pick: New Orleans-34 Tampa Bay-20 EK
Scouting Report: With these teams that are playing, it should be a toss-up. On one side, you have the biggest underachievers of the entire season in the New Orleans Saints. Many people picked them to win the Super Bowl, but right now, they're under .500 in the worst division in football. On the other side, you have the home team who gains a lot more with a loss than with a win. If the Bucs want the top pick, a loss would go a long way.
Pick: New Orleans-27 Tampa bay-24 BF
Carolina Panthers at Atlanta Falcons
Scouting Report: Winner goes to the playoffs. Loser hits the golf course. Two teams with their seasons on the line. It's kind of aggravating to other teams that the winner of this game will be under .500 and in the playoffs, but that's what happens when you're in the NFC South this season. The Panthers are on a roll, winning three straight and playing great defensively. Cam Newton has had some solid play and is fully recovered from his car accident a couple weeks ago. Expect a big game from Newton against an awful Falcons secondary, look for a confident Panthers defense to contain Matt Ryan, and all in all the team with the hot hand will win and head to their second straight playoff appearance.
Pick: Carolina-26 Atlanta-24 EK
Scouting Report: Winner moves on. Loser goes home. This is the type of game you live to play if you're a football player and the type of game you live to watch if you're an NFL fan. This is what makes the NFL great. Cam Newton and Luke Kuechly versus Matt Ryan and Julio Jones. It's no surprise that these teams are sitting in an identical position in week 17. They are so evenly matched. The one advantage I see when reviewing the matchup is the home field advantage. Matt Ryan is a best at home, and if the homefield beast can get the ball to the receiver who's a beast both home and away, the Falcons will come out victorious.
Pick: Atlanta-35 Carolina-21 BF
Detroit Lions at Green Bay Packers
Scouting Report: This has the makings to be the game of the week. On the line here is the division title and good playoff position. A lot of great matchups to look at here. Calvin Johnson versus Jordy Nelson, Rodgers versus Stafford, and so on. Rodgers has arguably the best protection in the game and will have ample time to find his targets against one of the best defenses in the NFL. The Packers have been dominant at home behind one of the best fan bases in all of sports, and nothing points against an undefeated regular season record at home for these guys as Green Bay should be division champs after this game.
Pick: Green Bay-28 Detroit-24 EK
Scouting Report: Who would've thought at the beginning of the season that this matchup would come down to whether Detroit could score enough points to keep up with their great defense? It's amazing how things change. A team once known for its high-powered offense and subpar defense has totally flipped the script. That being said, they still have the offensive weapons to make some noise and score a lot of points against this Green Bay defense. However, I'm going to stick to the formula I've used all season: Aaron Rodgers + Lambeau Field = Victory.
Pick: Green Bay- 24 Detroit-21 BF
Oakland Raiders at Denver Broncos
Scouting Report: The Oakland Raiders crushed the dreams of thousands of Bills fans last week en route to their third victory of the season. There's a lot of young talent such as Khalil Mack and Derek Carr that should excite Raiders nation for the upcoming seasons, but looking at the present, the Broncos are 7-0 at home, and there's absolutely no way the Raiders are going to end that streak.
Pick: Denver-34 Oakland-27 EK
Scouting Report: This Raiders team is simply not good enough to beat Denver at home. The Raiders have some pieces in place for the future, and with a high draft pick this year, they could be relevant again very soon. The Broncos, however, are relevant right now and are especially relevant at home, where they are yet to lose.
Pick: Denver-27 Oakland-17 BF
Arizona Cardinals at San Francisco 49ers
Scouting Report: A really disappointing end to the season for the Niners. They were 7-4 with just as good of a chance for the playoffs as anyone else, but a four game losing streak has them at 7-8 and out of playoff contention. Jim Harbaugh is as close to being fired as any other coach in the league, and for obvious reasons: this team really shouldn't be under .500. Meanwhile, despite injury problems at the quarterback position and huge offensive struggles, the Arizona Cardinals have a playoff spot. It's going to be tough for them to do any damage come playoff time with all of their offensive struggles, and with Ryan Lindley starting against one of the best defenses in the league, it's a no brainer to go with San Francisco in this one to close out their disappointing  season at .500.
Pick: San Francisco-20 Arizona-14 EK
Scouting Report: Neither team has much to play for in this one. The Cardinals have their playoff spot, and the 49ers are locked out of contention. San Francisco's home field advantage might be enough to carry the day in this one. A win would be a fitting way to send off Coach Jim Harbaugh, a man who has brought this team out of the ashes and into Super Bowl contention in no time at all.
Pick: San Francisco-27 Arizona-20 BF
St. Louis Rams at Seattle Seahawks
Scouting Report: We all remember what happened last time these teams played. Well, if you don't remember, let me fill you in. The Rams beat the Seahawks in what was one of the biggest upsets of the season. That was when the Seahawks were struggling, however. They've been unstoppable lately, and they'll be sure to finish off another impressive season with a win behind the best home field advantage in the NFL, giving them the NFC West division title.
Pick: Seattle-30 St. Louis-20 EK
Scouting Report: Simply put, any team that is coming off a loss to the New York Giants has absolutely no chance to defeat the defending Super Bowl champions, especially in Seattle. Expect the Seahawks to set the tone early and often with Marshawn Lynch and then fool the St. Louis linebackers with a play-action pass that goes for a big gain.
Pick: Seattle-34 St. Louis-10 BF
Cincinnati Bengals at Pittsburgh Steelers
Scouting Report: This is it. The final game of the regular season. This is quite the way to close it out. Winner takes the AFC North. And the loser is still in the playoffs. This is still a game that both of these teams will desperately want to win. The Steelers have so many offensive weapons, and they've been on display recently. The extraordinary talents of Brown, Roethlisberger, and Bell, amongst others, have been very evident lately, and this Steelers offense will lead this team to victory heading into the postseason.
Pick: Pittsburgh-27 Cincinnati-21 EK
Scouting Report: The Bengals are coming off their biggest win of the season against Denver on Monday Night. The win assured their spot in the playoffs, rendering this game obsolete in terms of "who's in?". However, with players like A.J. Green, Antonio Brown, Jeremy Hill, and Le'Veon Bell roaming the field on offense, there could be some serious fireworks in this one. The home field advantage coupled with the fact that the Bengals are coming off a short week lead me to pick Steelers in what should be a great game.
Pick: Pittsburgh-30 Cincinnati-28 BF