NBA Power Rankings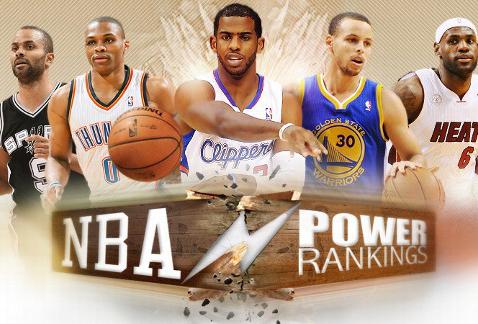 Hang on for a minute...we're trying to find some more stories you might like.
Golden State Warriors (16-2): We knew from last year that they had it in them offensively. Behind the splash brothers, Stephen Curry and Klay Thompson, this team can really score, but with Steve Kerr at the helm, the Warriors have turned into a stout defensive team, giving up the 7th fewest points per game. With a big lead on the previously crippled Thunder and with the Spurs getting older each game, look for Golden State to push for the top seed in the West all year.
Memphis Grizzlies (15-4): Marc Gasol leads arguably the top defensive team in the league. Due to their only average offense, this team will need to rely on that defense to stay atop the loaded Southwest Division.
Portland Trail Blazers (15-4): The Blazers are top ten in all major categories-scoring, rebounding, assists, and points allowed. With that kind of all around play, Portland looks to be in good shape in the unbelievably tough Western Conference.
Houston Rockets (15-4): James Harden has been unstoppable so far this year, averaging 25.7 points and 6.5 assists per game. His play couple with the resurgence of Dwight Howard as a dominant big man, Houston is looking to make some noise in the West.
Toronto Raptors (15-5): The first Eastern Conference team in these rankings, Toronto looked like it was picking up where it left off at the end of last year. However, with two recent losses to the lakers and Cavaliers, the Raptors  are in rebound mode.
Los Angeles Clippers (13-5): The fact that the Clippers are 13-5 even with the stunningly slow start that Blake Griffin had to the season, speaks volumes about the job Doc rivers has done the team.
Dallas Mavericks (15-6): This is a veteran team with a lot of talent. Nobody can guard Dirk Nowitzki, Monta Ellis, and Chandler Parsons at the same time. Those three are pure scorers.
San Antonio Spurs (14-5): The Spurs refuse to let age slow them down. They looked poise to make sure that the Western Conference title goes through them.
Washington Wizards (13-5): John wall and Bradley Beal form one of the fastest, most athletic, and most lethal backcourts in the NBA.  At year's  end, expect john Wall to get some MVP consideration. However, that being said, the young team still looks to be a year or two away.
Cleveland Cavaliers (11-7): With Lebron James assuming the role of best point guard in the league, expect this team to climb up the rankings. They'll need more out of the supporting class if they want to reach the top though.
Chicago Bulls (12-7): The Bulls' season will be defined by the health of Derrick Rose. Period.
Atlanta Hawks (12-6)– Jeff Teague and Paul Millsap have the Hawks off to one of the most surprising starts of the year. Can their 8th-ranked offense keep up the pace?
Phoenix Suns (12-8): The Suns have been solid so far this year led by Goran Dragic, their point guard. If they want to compete for a playoff spot this year, they'll need to really tighten up defensively. They are ranked 25th in points allowed.
Sacramento Kings (10-9): DeMarcus Cousins just went down with an injury, so any absence from the team will hurt significantly.
Milwaukee Bucks (11-10): The Milwaukee Bucks have a winning record! Can you believe it? Maybe Jason Kidd knew what he was doing when he bailed on the aging Nets.
Miami Heat (9-10): Miami has cooled off since their impressive start to the season. Chris Bosh has stepped up big time, but Miami has lost some winnable games this season. If they can get over the hump and beat the mid- to low- caliber teams, then the Heat could move up the NBA ranks and quickly.
New Orleans Pelicans (8-9)– Anthony Davis has been absolutely unstoppable. He's been dominant, and with the return of Eric Gordon soon and Omer Asik recently, the Pelican should pick it up and improve their record in the following weeks.
Denver Nuggets (9-10): Ty Lawson broke Kirk Hinrich's ankles this week and the Nuggets are 7-3 in their last ten. Things have turned around and quickly as head coach Brian Shaw seems to be exiting the hot seat.
Oklahoma City Thunder (6-13): With the additions of Kevin Durant and Russell Westbrook back into the lineup, the Thunder should be climbing up the standings in the upcoming weeks.
Brooklyn Nets (8-10): Look, the Nets are a middle of the pack NBA team. They're not going to be awful this season, but they certainly won't be a top seed in the playoffs. Their inconsistent play so far is what we should be expecting from them all season.
Boston Celtics (6-11): Boston is just 1 and a half games out of a playoff spot almost a quarter of the way into the season. After a home and home with the Wizards, a stretch of easy games could determine whether this team will be tanking or fighting for a playoff spot as the season progresses.
Orlando Magic (8-14)– Nikola Vucevic has been a MONSTER through 22 games. He's been one of the top centers thus far, and I don't see any reason why his play should slow down. Tobias Harris hasn't been too shabby either. A lot of bright spots and exciting young talent on this team.
Indiana Pacers (7-13): An injury-riddled Pacers team has had trouble scoring so far. Defense hasn't been an issue, but they need to find a way to score if they want a shot at a playoff spot in a relatively weak Eastern Conference.
Charlotte Hornets (5-15): Charlotte should not be this bad, period. With players like Kemba Walker, Lance Stephenson, and Big Al Jefferson, a 5-15 record is unacceptable. I'm expecting a turnaround soon, but as of right now, this team's play has been very poor.
Los Angeles Lakers (5-15): Whether you love him or hate him, 36 year old Kobe Bryant's play this season has been impressive, to say the least. Unfortunately, there's no getting around the Lakers' awful defense and overall poor team. A high draft pick to help rebuild this team is in their future.
Minnesota Timberwolves (4-14): It's pretty deflating when you lose to the Philadelphia 76ers. Well, that's what happened to the Minnesota Timberwolves on Wednesday. Their next three games are against Spurs, Warriors, and Blazers, so Wolves fans shouldn't expect to end their four game losing streak anytime soon.
Utah Jazz (5-15): After a respectable 5-7 start, the jazz have lost their way in a tough Western Conference, dropping their last 8 games.The play of Gordon Hayward has been a bright spot for this young team. These guys have a lot of potential, but this just isn't the year for them. A tough stretch of games coming up doesn't help either.
New York Knicks (4-17): This year's New York Knicks team has proven that Carmelo Anthony can't do it all. You have to feel for these guys, though. They've been in a lot of close games and know how to stay in them, but when you only have one offensive weapon and average 93 points per game, those games are going to be extremely tough to close out.
Detroit Pistons (3-16): Since starting the season 2-3, the Pistons have dropped 12 of their last 13, including ten straight. They have talented players such as Monroe, Drummond, Smith and Jennings, but until they can put the pieces together a turnaround does not seem very likely.
Philadelphia 76ers (1-18): Kudos to this team for getting their first win of the season. Unfortunately for them, winning is not something that will be a regular occurrence for a team that is looking as if they'll have one of the worst seasons in NBA history.