Prayers for Wuhan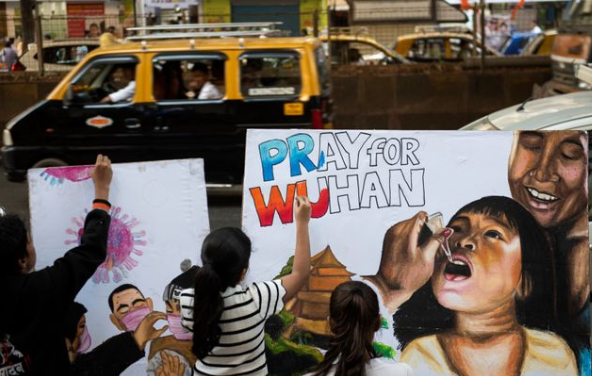 In the early morning of January 23, with 17 people dead and more than 500 confirmed cases of the new Coronavirus in the city of Wuhan alone, the Chinese government temporarily shut down Wuhan's public transport, quarantining the city of 11 million people in hopes of halting the outbreak.  No one knows how this "temporary shutdown" will last, but for many in the past half month, the city has become solely defined by the epidemic and its rapid growth.
According to the WHO (World Health Organization), 774 people died and over 8000 people became sick during the Sars outbreak in 2003. At that time, Xiaotangshan Hospital was built in Beijing in order to accommodate the number of patients showing symptoms of Sars. It was constructed in seven days, allegedly breaking the world record for the fastest construction of a hospital. Within two months, it admitted one-seventh of the Sars patients in the country and was hailed as a "miracle in the history of medicine" by WHO experts. After 17 years, miracles happened again, and two emergency specialty field hospitals were constructed within 10 days in response to the Wuhan Coronavirus outbreak. On February 3, Huoshenshan Hospital, which means Fire God Mountain in Chinese, was handed over to the military and fully put into operation; three days later, Leishenshan Hospital, which means Mount Thunder God, began to treat patients. 
This undoubtedly contributed a lot to the battle of Wuhan in this severe situation. Not only the construction workers who are fighting days and nights, but the medical workers who come forward and fight on in times of crisis also are real heroes. These days, medical staff are overloaded every day, facing unimaginable pressure and racing against the time and the virus. It is human instinct to avoid danger and protect themselves, but they choose to rally from various cities to Wuhan, stick to the position, and take risks. That is the best interpretation of the benevolence of the healers. They are also sons, daughters, parents, friends to someone, but now, they are warriors that people will forever be grateful for.
The new coronavirus occupies Wuhan in this cold winter,  busy streets are empty and people are forced to stay at home. Suddenly, Wuhan is the focus of the world. Wuhan has become an isolated city, everyone consciously canceled their plan to go out for the safety of people in other cities and countries. When facing a crisis, humans historically seek solidarity, this battle has brought 1.4 billion people together. Residents in Wuhan have been shouting "Wuhan, stay strong" out of their windows, from an apartment building to another apartment building, to send words of encouragement to each other. Wuhan, be brave and get well soon!