An Actor's Perspective on the Making of Almost, Maine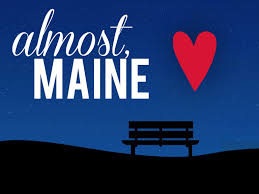 This is my first year attending the Albany Academies. As a new student, I was nervous about going to a new school, which was made even harder by the pandemic. The play that was ultimately produced is called "Almost Maine," detailing the lives of people living in a small territory in Maine, and the way that love affected their lives in just one night. When I found out about auditions, I was excited because I have always participated in plays. However, I was hesitant because I didn't know anybody who was auditioning, and these times are so unusual. Mr. Johnson chose this play because, in each scene, there were only two or three people on stage at a time, which allowed us to be six feet apart at all times for social distancing. Of course, we also had to wear masks at all times, which made it hard to see the emotions of the actors, but helped us all stay safe. I am sure that fear of the virus stopped some people from auditioning, but it didn't stop our cast and crew from having a great experience.
During rehearsals, the cast was divided into groups based on the scenes we were in. The groups met on different days, which also helped minimize gatherings.. This play was different because we were not going to be able to perform it live due to the virus. Instead, the play was filmed and streamed on the internet. This actually helped, because we were able to have our performance, but if someone made a mistake, we were able to start over and try it again. When we started rehearsals, we first sat outside and read our lines, but the weather made that short-lived. Then, we started adding in where the props would go and what we would do when a certain part of a scene happened. When we moved inside, one group would practice in the Black Box room while the others practiced in the band room, or what is now the photography room. We had to wear a mask the entire time and couldn't take it off unless it was a mask break. Given that this play was about love, there were kissing scenes, which had to be reworked by Mr. Johnson and Mr. Streifert to accommodate pandemic protocols.
 In one of the scenes "This Hurts," I had to figure out a way to not hit my fellow scenemate, Riley Vrooman, in the back of the head with an ironing board, and instead hit a bench. It was difficult, because at the time we were practicing, he was sitting on a chair, and due to the blocking of the scene, I almost hit him several times. Then, I had to practice folding and picking up an ironing board very quickly while waving one of my hands like I burned it. Learning the lines for this play was challenging because there was a lot of dialogue and the actors talked a lot and often interrupted each other. All of us in the play had that challenge and we all overcame it to make each scene look like an emotional conversation. One of the scenes, "They Fell," was very unique because it was filmed as a FaceTime call. The two actors were filmed in the faculty room for this scene, which made it seem like they were in their own apartments.
Before we started filming the play, Mr. Johnson brought in Mr. Collett to watch the group that day and provide any criticism. We appreciated the suggestions he made in order to fix some scenes. There were a lot of laughs when we actually started filming. Eli Thoma, a senior and a cast member, had the funniest blooper when he was supposed to drink water out of a bottle. He drank too much and started coughing and said, "Can we rewind?" The entire cast and crew members started laughing. This was so funny that it was included as a blooper at the end of the video. Overall, the filming of the play was great, and the camera people did an amazing job. At the end, we all came up with our own little 80s-like end credits montage. Once we each thought of our ideas, the crew and cast members went to the spot where each person picked and filmed them there.
Finally, the play was ready to be shown to the public. I loved watching the play once it was live-streamed on ShowTix, and obviously told everyone I know to watch it. In fact, Mr. Johnson said that more people had seen this play than other plays in the past. When I saw everyone else's scenes again, I thought that they were very well done. Overall the production was safe and fun with no incidents involving masks or social distancing. I enjoyed performing with the other cast members and getting to know them since I was new to the school, and I am looking forward to acting in more plays in the future.