People of Academy – Julie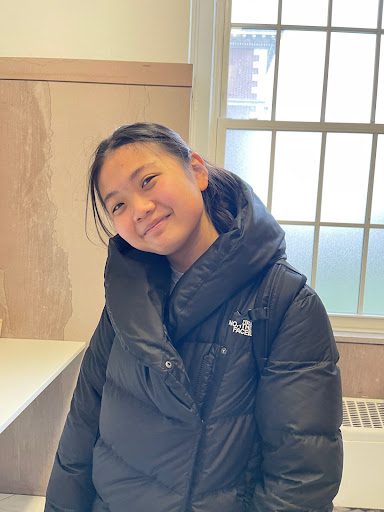 Julie (11th Grade) 
2 years at Academy 
"Last week I made a morning announcement for International Club. We were trying to celebrate Hanukkah." 

– Were you nervous? 
"Yeah. Me and Charlie practiced like ten times before the morning announcement and it was just one minute long. We were pretty nervous because it was in front of all of the Seniors and Juniors and it's also our first time. Especially being an international student, it's not our first language. It was kinda hard. It was boring. It gave me the ambition to be the international club's president next year, not because it was boring, but because I could make people say something fun. We could do a small play during the morning announcement. It would just be three or four people on stage trying to do a conversational thing instead of just saying something like we do now. 
– What has it been like being an international student? 
"It's been fun because of my personality. Constantly, I get really homesick. Especially with my host parents, since they have their kids, sometimes I feel a little left out with Charlie (another international student living with her). But Charlie doesn't care just because she doesn't care much about what others do. I still get to talk with my parents online and also because of the pandemic, I haven't been able to go home for three years. At the same time, I get homesick, but it also gives me more expectations of going home. I always think about how much change there has been in my hometown and also how grown up I am. My parents will be very proud of me."
– When do you get to go home next? 
"Probaby, this summer or when I go to college because everything will be done. I'm not sure because I have to prepare for my ACT or SAT. I cried two weeks ago. That was the last time I cried because I really wanted to go home. I mean, I like the people here. Everyone's nice, especially Mr. Hofgesang."