People of Academy – Cullen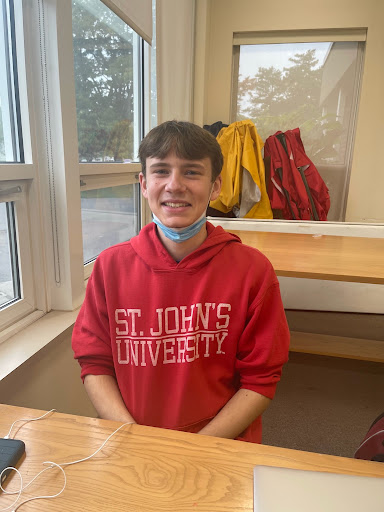 People of Academy is a new section of the Academy Road. Inspired by Brandon Stanton's series Humans of New York, our project aims to learn more about the people of the Albany Academies. Each participant is asked to share a story of something interesting or important that has happened to them. This content is real and sometimes blunt. 
Cullen (12th Grade)
2 years at Academy 
*This story is a bit morbid, so read with caution* 
"This past summer, I got my first job, and it was washing dishes at a restaurant. I absolutely hated it. It was 4 to 11ish, 4 nights a week, so it was brutal. And I was only getting minimum wage, so it wasn't really anything good. Although, I did get a free burger every night, so that was kind of good. 
But, this past summer, there was that week where there were a bunch of heatwaves. There was that solid week, where there was a heat advisory every single day. So, in the kitchen, it was reaching almost 120 every day. On this fateful day, it was hot. It was toasty, for sure. And usually, my boss/owner of the restaurant would come in and help in the kitchen because they were understaffed. So this particular day, it was toasty, and he was helping out in the kitchen, and out of nowhere, he just started succumbing to the floor. It happened so suddenly. And I was like 'Oh, no. How am I going to get my dishes done now?' But then they started doing CPR on him and I was there. I did look away because I didn't really want to watch that, but it was kind of hard to not see it because I was stuck in the back. So I was just there. 
He was there, and everybody was screaming and crying. That was not fun. I was very confused. I didn't really know what was happening. I just assumed that he had a heat stroke or something, and he had just passed out because it was so hot. But, as I would come to find out, it was a heart attack. They called the paramedics and they got there. They continued to do CPR and they had the defibrillators. And he did unfortunately pass away on the scene. 
They closed down, and I lost my job.
I didn't know him very well, but we had conversations in passing. I wasn't there for long, maybe like two and a half months. But, he was there almost every day, so I saw him a lot."
*Cullen nominates Ursula in grade 12 to tell her story*